Huygens deconvolution was featured in a publication in the journal Pharmaceutics. Scientists at the University of New Mexico have recently published their research on Mesoporous Silica Nanoparticle (MSN) trafficking in lysosomes along microtubules.
MSNs have promising applications in drug delivery and immunotherapy because of their inorganic and inert nature. They are also highly customisable, provide a high drug loading capacity and are highly biocompatible. In the same study, the scientists also highlighted the potential of MSNs in fighting cancer.
The Huygens software was used to deconvolve confocal images of HeLa and A549 cells to achieve a single-nanoparticle resolution (136nm, see Figure 2). Microtubules were also visualised easily after deconvolution, allowing the trafficking of MSN along microtubules to be observed.
The co-localisation analysis feature of Huygens was also used to show that the MSN signal is highly co-localised with LysoTracker™ Red, showing that lysosomes are the main vehicle for MSNs.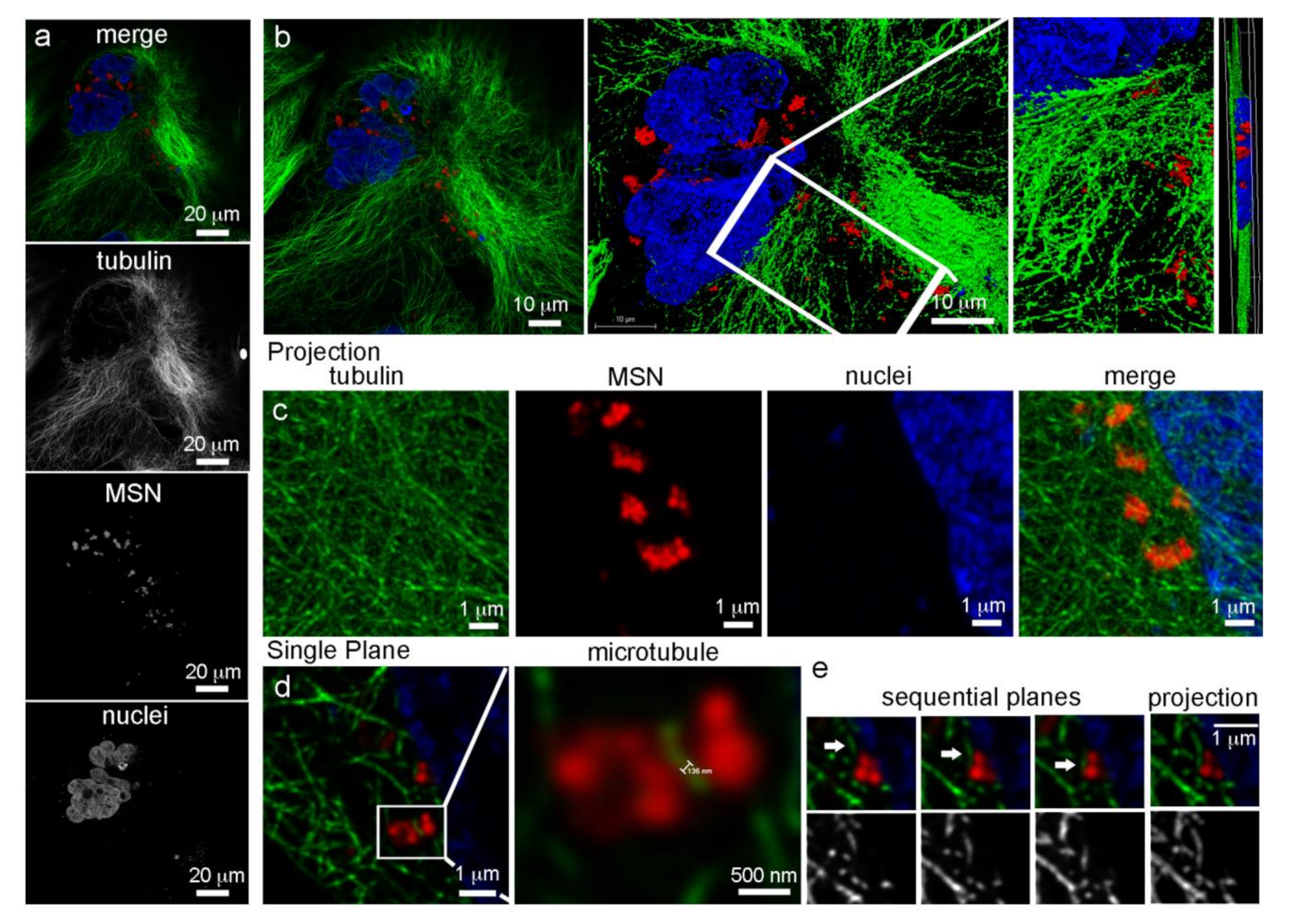 Figure 2. Microtubule highways in HeLa cells. (a,b) Single plane and 3D confocal micrographs showing individual fluorophore and merged images of a HeLa cell incubated with MSN for 24 h [microtubules in green (AF488), nuclei in blue (DAPI), and MSN in red (DyLight 633)]. (c) High magnification single and merged fluorophore projection images showing perinuclear MSN-laden endosomes and their association with microtubules. (d,e) Single plane and projection deconvoluted micrographs showing MSN association with single microtubule filaments. The size bar in "d" shows resolution at 136 nm.
Endolysosomal Mesoporous Silica Nanoparticle Trafficking along Microtubular Highways
Noureddine et al., 2022. Pharmaceutics 14(1), 56. https://doi.org/10.3390/pharmaceutics14010056
Abstract
This study examines intra- and intercellular trafficking of mesoporous silica nanoparticles along microtubular highways, with an emphasis on intercellular bridges connecting interphase and telophase cells. The study of nanoparticle trafficking within and between cells during all phases of the cell cycle is relevant to payload destination and dilution, and impacts delivery of therapeutic or diagnostic agents. Super-resolution stochastic optical reconstruction and sub-airy unit image acquisition, the latter combined with Huygens deconvolution microscopy, enable single nanoparticle and microtubule resolution. Combined structural and functional data provide enhanced details on biological processes, with an example of mitotic inheritance during cancer cell trivision.